BATTLEFLEET 1900
PRE-DREADNOUGHT NAVAL WARFARE: 1890-1905

These rules are suitable for use with all standard wargaming miniatures, including our line of naval pre-dreadnought ships sold here at the WTJ Store which are available in four scales: 1/1500, 1/1800, 1/2400 and 1/3000. All text and combat charts needed for game play are included below, the rules are completely free and no purchases are required.
Rules: Version 3.04 – Includes all rules and outlines needed for game play.
Printing guide and revision Index – A list of changes, corrections and additions made to Battlefleet 1900 since its creation.


Combat Charts – Download and print sides one and two on any standard printer. Read the overview for a step by step guide through each table on the chart. Note that the rules text commonly defers explanation of chart related mechanics to the overview page, so it is an important part of the rules, not just a simple guide. The Fast Play version of the chart generates a higher rate of hits for a quicker game.
Turning Circles & Firing Arcs – Download and print the sheets that correspond to the game scale you are using. The templates are used to aid movement and fire resolution during game play. Read the overview to learn how to use these valuable tools.
Logs – Download and print the gunnery log and ship log on any standard printer. Read the overview for a step by step guide on how to fill out a vessel's log sheet. Consult the scale page for a list of game scales and speed conversions.
Ships Values – Cross-indexed below are pages of ship statistics by nationality and type, each of which include all of the details required for game play. The battleship lists also include coast defense battleships and monitors. The gunboat lists also include sloops, minelayers and other light vessels. The destroyer lists include torpedo boats and torpedo gunboats. See the value key for definitions of the entries shown in the lists and the formulas page for a detailed outline of how to calculate your own ship values.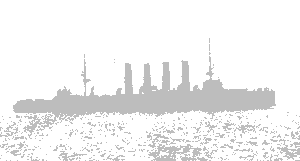 game support
Optional Rules – A large selection of optional rules used to add realism to pre-dreadnought naval battles. Including sea conditions, minefields, collision rules and more.

Combat Scenarios – A section dedicated to combat scenarios for the pre-dreadnought era, with an emphasis on Battlefleet 1900 and WTJ Naval miniatures.

Glossary – Confused by naval terminology? Don't know what a sponson is? Browse through our short glossary of potentially mysterious words and phrases.